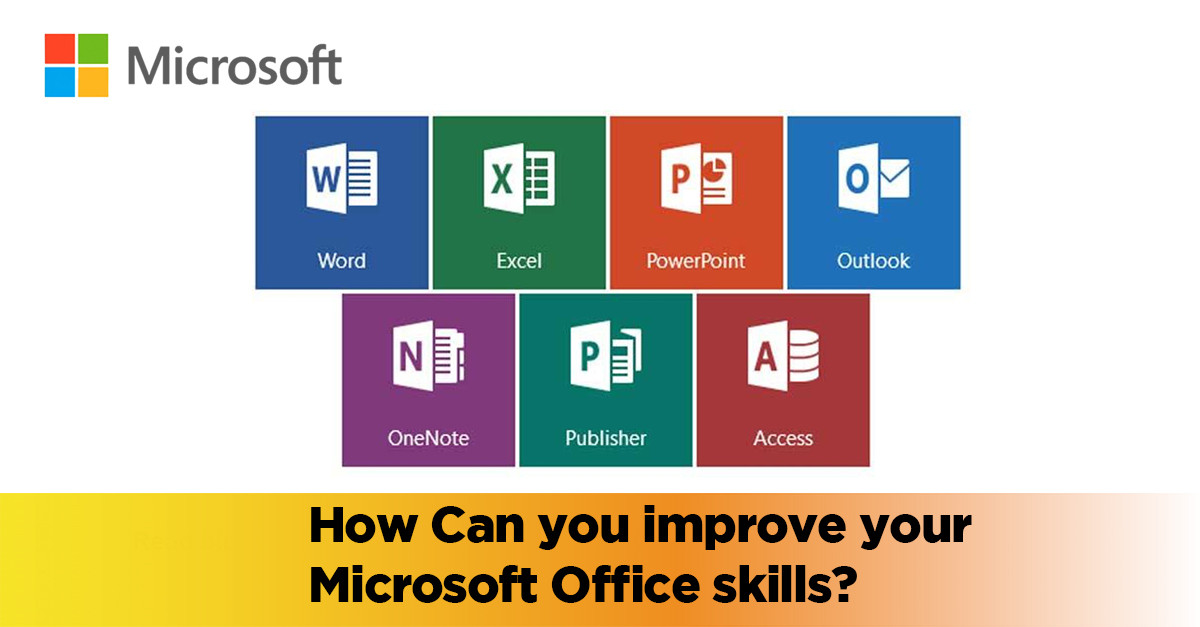 Digital technology has transformed our world and our lifestyles. The world of business has been redefined completely by this. Today, for almost any type of job, it is absolutely essential to know how to use Microsoft Office on at least a basic level. Most of the time you will need to use Word, Excel and PowerPoint for various work requirements.
So What is Microsoft Office?
According to the Business Dictionary, Microsoft Office is a suite of products developed by the Microsoft Corporation. This suite includes MS Word, Excel, Publisher, Access, PowerPoint and Outlook. Every one of these programs cater to a different requirement and they are all compatible with each other at the same time. Windows and Mackintosh operating systems are capable of hosting the suite of programs and Microsoft Office is the single most widely used form of software in the world.
How Widely is it Used?
According to Statista, Microsoft's global revenue reached 110.36 billion USD in 2018 and the global desktop windows market share was 82.88%. In 2016, Microsoft also revealed that at the moment they had 60 million monthly active Office 365 commercial users and that there were almost 50,000 small business clients added to this every month! Microsoft had also witnessed about 340 million downloads of its Office Mobile apps and that alone is a staggering increase compared to the 100 million just 6 months before 2016. That, should give you a general idea of how widely Microsoft Office is used in businesses alone.
So now you know why you should work on improving your MS Office skills.
But how? These are some easy and practical tips that you can make use of if you want to get proficient at your Microsoft Office skills.
Which Functions Are Completed By Each Tool?
Because Microsoft Office is a combination of different tools, it is first important for you to get a clear idea of the functions that each one fulfils. This way you will have your foundation to explore each tool further and to know when and how you should be implementing the use of each one. Below are the uses of the 3 software that are most widely used.
Excel – this is essentially a spreadsheet program and can be used in calculations of different complexities. You can use formulas and integrated functions to solve mathematical calculations in just seconds, effortlessly if you know how to use these formulas. You can also manage, filter, store and sort data on this easily. You can use pivot tables and graphs to represent the data that you stored here as well.
Word – this is for all purposes, a word processing software where you can type your content in continuous text and then set the layout of the document based on your requirement. Once again you can either leave it really simple or make it more elaborate based on your requirement. You can insert tables, footnotes, indexes and illustrations if needed. Almost all businesses make use of Word so knowing how to operate this efficiently will really help you in your work. This also applies to students who will need to use Word in their assignments and projects or for daily use.
PowerPoint – this is useful for both businesses and university students alike to create presentations that are impactful and professional. You can animate your presentations and add texture and colour or designs to them as you like and you can also take printouts of your slides so that those listening to your present can take down notes physically if needed.
Match Your Tasks With the Right Tools
While it may feel like there is so much going on, another factor that you need to think about is the task at hand and the tool that is right for it. If you need to know Excel really well and just simply know how to use PowerPoint, Access or Outlook on a basic level focus on what you need to be highly skilled at. This way, you breakdown your learning process and simplify studying the software. You can also start by trying out some Microsoft courses for beginners if you are really new to this so that you cover your basics and gain confidence to use MS Office.
Practice as Much as You Can
You cannot possibly stress the importance of practice enough. Always use the tools by yourself and try out all the features that you are given on each. This way you have a better chance of remembering what each function does and how you can apply it rather than simply reading it on a paper and then memorising it. Keep practising until you remember these functions well and know where and how to use each one of them. It may seem like a lot, but it really isn't and it is possible to know them in the back of your mind.
Do You Want a Higher Level of Proficiency at Microsoft Office?
It is possible that you may want to get a deeper understanding of this for your work or for your studies. If so, explore the Microsoft courses online that you can follow at leisure from home or when you have some free time at work so that you educate yourself on a more thorough level. It is unlikely that you would want to actually physically join a college just to learn this so an online program would be your best bet because it is easier, faster, cheaper and of course can be completed at a pace that is comfortable for you.
Where Can You Find Microsoft Office Online Courses?
1Training is an online education provider in UK known for high quality teaching and fully accredited programs that can add value to your career. We offer a selection of Microsoft courses in the UK that are designed and developed by industry experts and delivered to you in an engaging and simplified context.
Here is our Microsoft certification courses list that you can choose from based on your requirement;
[maxbutton id="1″ url="https://www.1training.org/course/microsoft-certification-advanced-course-bundle/" text="Microsoft Certification Advanced Course Bundle" ]
[maxbutton id="1″ url="https://www.1training.org/course/microsoft-certification-innovative-course-bundle/" text="Microsoft Certification Innovative Course Bundle" ]
[maxbutton id="1″ url="https://www.1training.org/course/microsoft-certification-pioneering-course-bundle/" text="Microsoft Certification Pioneering Course Bundle" ]
[maxbutton id="1″ url="https://www.1training.org/course/microsoft-certification-regular-course-bundle/" text="Microsoft Certification Regular Course Bundle" ]
[maxbutton id="1″ url="https://www.1training.org/course/microsoft-certification-standard-course-bundle/" text="Microsoft Certification Standard Course Bundle" ]
Did this blog help you find what you needed? Give us your feedback and let us know. For more information contact info@1training.org